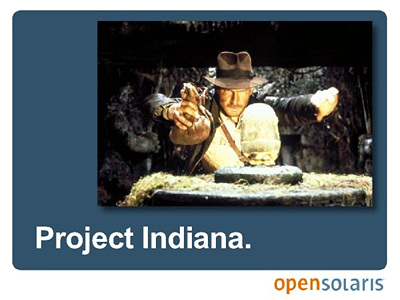 This week Sun's Glynn Foster had two presentations on Project Indiana in Australia and Ireland. In the talks Glynn had went over the basic information on what Project Indiana is about as well as sharing other details and listening to feedback from the audience. These slides are now published on the Internet, some of which we will be sharing in this article as well as talking about some of the points.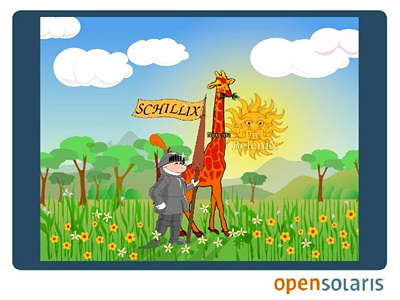 Schillix, NexentaOS, and BeleniX are all OpenSolaris-based distributions.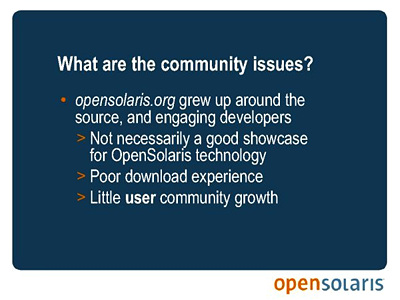 As Ian Murdock has reiterated multiple times, there is confusion with OpenSolaris where users believe it is a downloadable binary distribution itself when in fact OpenSolaris.org is a repository for projects and source code. While Sun and the OpenSolaris community hopes to address these issues with Project Indiana, currently there is a poor download experience and little user community growth surrounding OpenSolaris.org.


Some of the technology issues with Solaris/OpenSolaris at present include high adoption barriers, increases in installation media size, no clear binary technology base, and no formal roadmap or public process for Solaris Express Community Edition. Some of the adoption barriers include the installation, packaging, and hardware support. You can find additional information on the Solaris installation experience in this article.
The customer issues...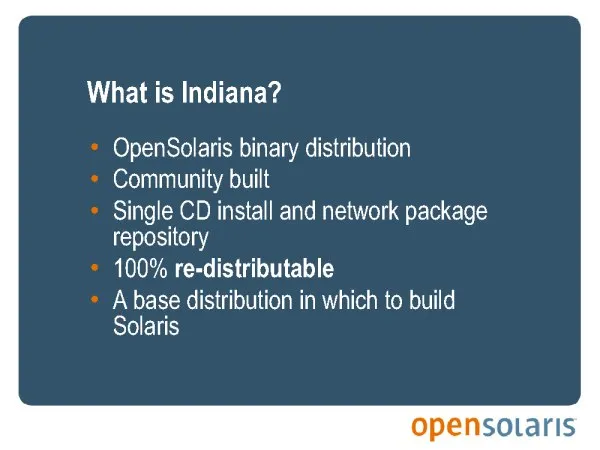 While much of this information has already been pointed out, Project Indiana will be an OpenSolaris binary distribution that is community built and will feature a single CD installation and a network package repository. The Project Indiana distribution will be 100% redistributable and a base distribution in which to build Solaris with binary compatibility.


The Project Indiana installation media will be sized to fit onto a CD and will include the core operating system and desktop environment. Project Indiana will better focus on the user experience with the "best of breed open source software" and emphasizes unique Solaris features, such as ZFS, DTrace, and Solaris Containers.
Project Caiman will provide the Project Indiana installation experience. Caiman offers both a graphical and text user interface and has integrated hardware compatibility testing, Live CD/DVD capabilities, deep integration with Solaris features, and simplified system configuration. Project Caiman also allows for the installation of additional software after the operating system installation has been completed. ZFS will be the default file-system in the Project Indiana distribution.
One of the areas where Solaris has been lacking is with package management capabilities, but Project Indiana will feature a new package management infrastructure with simplified administration of binary packages and a more intuitive update experience with ZFS rollback functionality.
Indiana's package management infrastructure will also support network package repositories to install other Sun and community created packages.


For hardware support installation, data will be sent back upstream (possibly similar to Fedora's smolt) as well as a searchable hardware compatibility list. There will also be Phoronix articles dealing with hardware under Project Indiana.
A preview release of Project Indiana is slated for October of 2007 while the first official release should arrive in March of 2008. Project Indiana releases will be on a six-month release cycle.
The discussion, process, and infrastructure for Project Indiana all take place within the community and Solaris Express Developer Edition merges into Indiana.
Project Indiana will be different from Solaris in the respect that it's the community's operating system. Similar to the relationship between Red Hat and Fedora, Solaris will become the polished distribution derived from Project Indiana. Solaris also has slower technology introductions, longer support cycles, and seamless migration from Project Indiana.
The official project page for Project Indiana is here as well as additional information from Phoronix. You can share your thoughts on Project Indiana in the Phoronix Forums.