Notepad2

, a fast and light-weight Notepad-like text editor with syntax highlighting. This program can be run out of the box without installation, and does not touch your system's registry.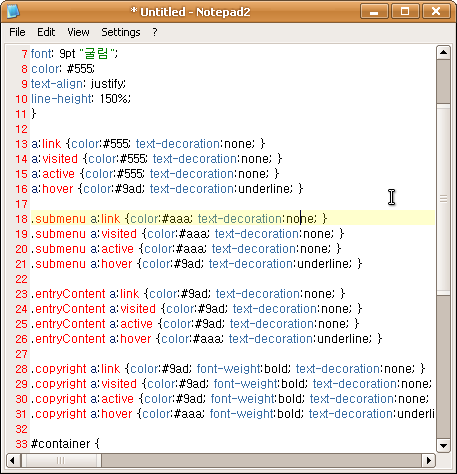 New in Version 2.0.x
The most important changes in Notepad2 2.0.x compared with version 1.0.12 include support for ini-file storage of the program settings, modeless find and replace dialogs, multiline find and replace operations (using backslash expressions), optional file change notification, and many more.
There's also some regressions, i.e. ANSI code page support has been reduced to the system default, the bookmarks feature has been removed, a few syntax schemes have been dropped, and Notepad2 does no longer run on Windows 9x. If you need any of these features, you'll have to stick to Notepad2 version 1.0.12.
The full details of the change log can be found in the Notepad2 Readme File (see below).
More Information and Resources
Notepad2.txt - The Readme File details the full list of changes for the current version.
Notepad2 FAQ - Frequently Asked Questions.
Notepad2 Links - Links to modified and translated versions of Notepad2.
Downloads
Also, you can download ' korean ' version at the link bellow. (but, it's not perfect translated version.)


invalid-file